Non-Corrosion Technology: Advancing with Ceramic Finials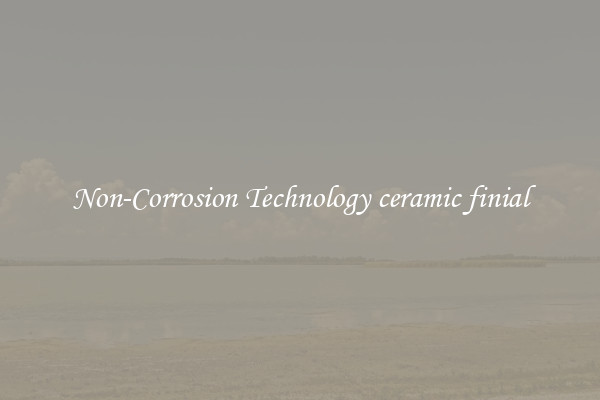 Corrosion is a common problem faced by industries and individuals alike, leading to significant financial losses due to material degradation and structural failure. Industries ranging from petroleum and gas to infrastructure and marine face the constant challenge of combating corrosion. However, a groundbreaking technology called Non-Corrosion Technology (NCT) has emerged, offering a durable and sustainable solution.
NCT has revolutionized the battle against corrosion by introducing ceramic finials as an effective corrosion-resistant tool. Ceramic finials are made from advanced ceramics that possess exceptional resistance to corrosion, high temperatures, and harsh chemicals. In contrast to traditional metallic finials that are prone to rust and oxidation, the ceramic alternative extends the lifespan of industrial structures, reducing maintenance costs and increasing efficiency.
One of the key benefits of ceramic finials is their non-reactive nature. Traditional finials made from metal are subject to chemical reactions when exposed to corrosive environments, leading to the formation of rust. Ceramic finials, on the other hand, remain unaffected by such reactions, offering reliable protection in highly corrosive conditions.
In addition to their non-reactive properties, ceramic finials offer excellent resistance to extreme temperatures. Whether subject to hot or cold temperatures, ceramics maintain their structural integrity, ensuring reliable performance in a wide range of environments. This is particularly beneficial in industries such as petroleum and gas, where structures are exposed to high temperatures and intense thermal cycling.
Furthermore, ceramic finials are highly durable, withstanding mechanical stresses and physical impact. Unlike their metallic counterparts, ceramic finials do not deform or lose their shape when subjected to vibrations or pressure, ensuring long-term reliability and safety. This is especially crucial in applications where structural integrity must be maintained, such as in offshore platforms and chemical plants.
The use of ceramic finials also aligns with sustainable practices. As corrosion-resistant materials, ceramic finials reduce the need for frequent replacements and maintenance, consequently minimizing waste generation and conserving resources. The durability and extended lifespan of ceramic finials contribute to a greener future, reducing the environmental impact of industrial operations.
In conclusion, Non-Corrosion Technology has introduced a game-changing solution to combat corrosion with the development of ceramic finials. Not only do ceramic finials resist corrosion, but they also boast non-reactive properties, withstand extreme temperatures, and exhibit exceptional durability. By incorporating ceramic finials into structures and equipment, industries can extend their lifespan, reduce maintenance costs, and contribute to a more sustainable future. As NCT continues to advance, the widespread adoption of ceramic finials as a corrosion-resistant technology will undoubtedly drive innovation and improve the efficiency and reliability of various industries.